Consecutively Numbered Labels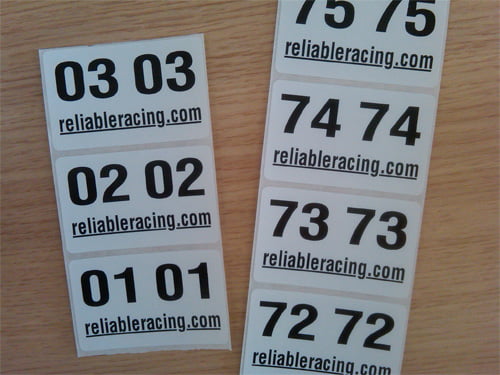 Consecutively numbered labels are specialty labels that can vary widely in format, color, material, and print depending on their usage and application. These custom printed sequential labels can increment (count up), decrement (count down), be printed in sets, or off of a supplied database. They can be bar-coded, color-coded, coiled in rolls, sheeted, or supplied individually cut. Consecutively numbered labels have literally thousands of uses, particularly for tracking, organizing, and logistical purposes.
Etiquette Systems manufactures reliable consecutive labels for most of today's popular uses, from consecutively numbered bar-coded labels to consecutively numbered color coded labels and beyond. They can also be referred to as sequentially numbered labels. If the numbering style is mixed, then we'll ask for you to supply a database listing numbers and the order(s) in which they should be printed.
Consecutively numbered labels are everywhere, used daily in regular business commerce. Take a moment to notice, and you'll see how they can be utilized in various industries. For example, custom printed consecutively numbered labels are commonly used by freight companies for BOL identifiers, a.k.a. "pro-stickers." Etiquette Systems also produces numbered asset labels for asset management, tracking, and routing. For instance, a new casino resort will likely need to account, via pre-printed number stickers, for everything from room furniture to kitchen equipment.
Consecutively numbered stickers can be made from paper or synthetics like polyester, polypropylene, or vinyl. They can be supplied in rolls for ease of dispensing, or in sheet format. We've even produced pre-printed number labels in printer-compatible format to allow end-users to add additional info via in-house printing: laser, inkjet, thermal transfer, etc. These variables all depend on whether your consecutively numbered labels are meant for short- or long-term application and what kind of conditions they are expected to endure.
If you're not sure what type of custom printed consecutively numbered labels you need, just contact us and ask what we can do to help you. We can print custom consecutive labels in a variety of materials and methods based on your needs, and have them to you surprisingly quickly.