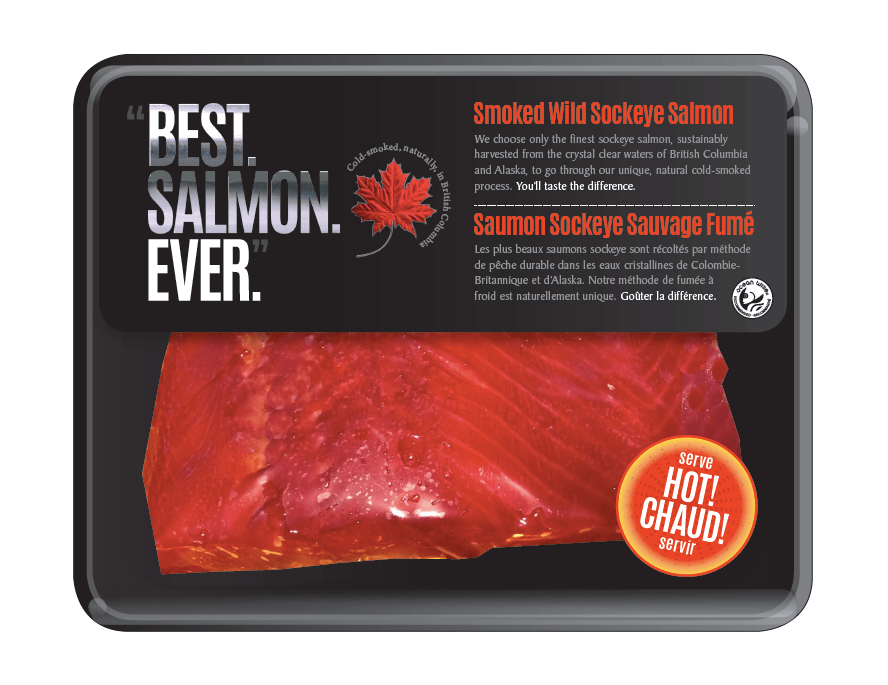 Dolly Parton once joked, "I'm on a seafood diet. I see food, I eat it." But there's "see food," and there's "seafood"! We love both, but we especially love the latter. Who doesn't like shrimp scampi cooked in garlicky butter sauce, or tasty wood-grilled lobster tail, or freshly-cracked crab legs dipped in clarified butter… okay, enough drooling.
If you live farther than a few dozen miles from the ocean, you depend on others to import that food to you—and unless you're willing to fly it in fresh in a saltwater tank, that mostly means refrigeration and freezing. So if you're a fan of real seafood, or better yet if you package it, you'll surely appreciate one of our freezer label specialties: seafood labels. Like all freezer labels, seafood labels have to be tough enough to handle subzero cold as well as moisture from both frost and condensation. Seafood labels are only as good as the materials they're made of; the face stock has to be tough enough to handle moisture and abrasion from other packages, and the adhesive can't let go even if it gets wet or "numb" from the cold.
Fish and other seafood just begs for good, accurate custom labels for several reasons. In addition to basic identification, seafood labels have certain requirements: they have to warn against any potential health issues, list where the seafood is sourced, and indicate whether the seafood fishery is sustainable. The first is a federal requirement; the others are demanded by consumers. That's why custom-printed seafood labels are so important.
Health warning seafood labels let people know to avoid the product if they have certain allergies, or if there's even the faintest possibility that the seafood could make some people ill. You'll see this sort of health warning seafood labels on oysters and mussels, for example.
Nowadays, people are much more likely to buy a seafood product if it has a sustainable seafood label or a custom wild-caught seafood label on the package—and they'll pay a higher price for the product, too. They also like to know if a product like tilapia or catfish was raised in a seafood farm, so custom printed farmed seafood labels are also important. Farm-raised catfish, tilapia, and crayfish, for example, tend to taste better to most people than wild-caught varieties; this is where a bold, well-printed farmed seafood label is crucial.
An organization called the Marine Stewardship Council certifies whether a fishery is sustainable. While there's some controversy about their methods, just the sight of a custom Marine Stewardship Council label with its bold blue checkmark ensures more people will buy the product. You'll see a lot of MSC labels behind seafood counters these days, not only in higher-end grocery stores like Whole Foods Market, but also in more common supermarkets, including Walmart and Sam's Club.
While lobsters and oysters are easy to identify, custom printed fish labels are very handy, since most people can't tell fish apart just by looking. Heck, even whole fish that are closely related can look quite different. Most of us need fish labels to help us tell the difference between a gafftopsail ocean catfish, a freshwater blue catfish, and Asian swai, for example—and those custom printed fish labels would be important, because all three have different flavors and edibility levels. Then there are all those fish steaks, fillets, and chunks. Are they catfish? Tilapia? Swordfish? Great white shark? Nemo? Who knows, without the right custom printed fish labels?
Like we've already pointed out, most seafood labels are also freezer labels, and if there's anything we know here at Etiquette Systems, it's freezer labels. We don't farm out our labels, unlike many so-called freezer label printers. We've got years of experience doing it right here in our own facility on our own press. We can print on a variety of papers and plastics, using color-fast inks that can handle both moisture and cold, as well as the right adhesives that will stick tight no matter what. If you need custom printed seafood labels, we're your company. We'll work closely with you to get all the right labels, from identification labels with your logo, to MSC labels with their logo, as well as any sourcing or other sustainable seafood labels you need to draw in your customers.
We look forward to helping you put the perfect seafood labels on your fish, shrimp, and other crustaceans. So: Need some great labels for your lobsters or crab-legs? Tell us your requirements, and we'll "get cracking" on the quote!