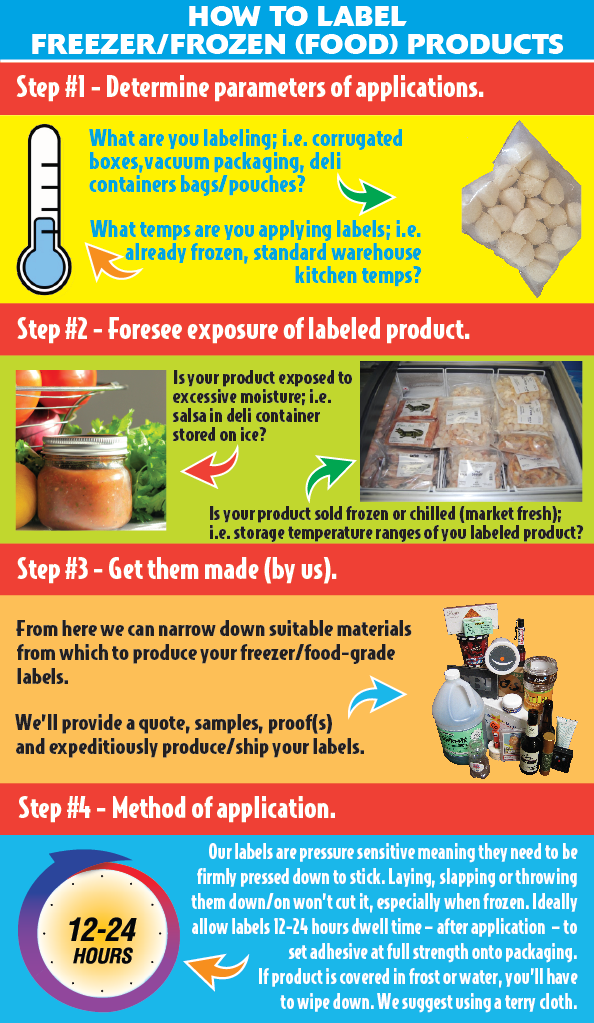 So, you've chose Etiquette Systems for your food-grade freezer labels. Epic choice! But whether you're going for the do-it-yourself freezer labels or our custom-printed freezer labels, you'll need to take a few things into account before you apply them to your food packaging. Even in freezer label application, there's a little art involved.
Whether sheet labels or rolls, our freezer labels are made to stick whatever the temperature or moisture content of your coolers and freezers (in fact, all our DIY sheet labels are freezer grade). But before you even start to think about applying them, you have to take into account the packaging and temperature of application. Different conditions require different types of materials. For example: you're going to end up with a lot more moisture on deli containers stored on ice than on cardboard boxes full of deep-frozen fish-sticks—not just from melt-water, but also from condensation. That being the case, extra moisture resistance is necessary for the deli labels.
Now that you know the constraints, we can start prepping the right blank freezer labels if you prefer a DIY approach, or custom freezer labels if you have a big run or just need some help. Whatever the case, we'll send you a quote ASAP, then provide samples, proofs if we're doing printed labels, and your final products in hours once you press the Go button.
Now comes the delicate part: applying your snazzy new freezer labels. All our labels are pressure sensitive, so while they're peel-and-stick, you do have to stick with some conviction. You'll also have to make sure there's no water or frost on the packages; we recommend drying them off with a terry cloth if there is. Now the freezer labels are safe to apply; but even then, you'll get best results when you give the labels 12-24 hours of dwell time as the adhesive cures.
At this point, your labeled packages are ready to go into the freezer, fridge, or delivery truck—and as long as you followed the application directories, you'll never have to worry about your freezer labels falling off or being abraded off by rough handling. You can be sure that if they go missing, it's because someone removed them… and with these food grade freezer labels, they'll have to put some serious effort into it.