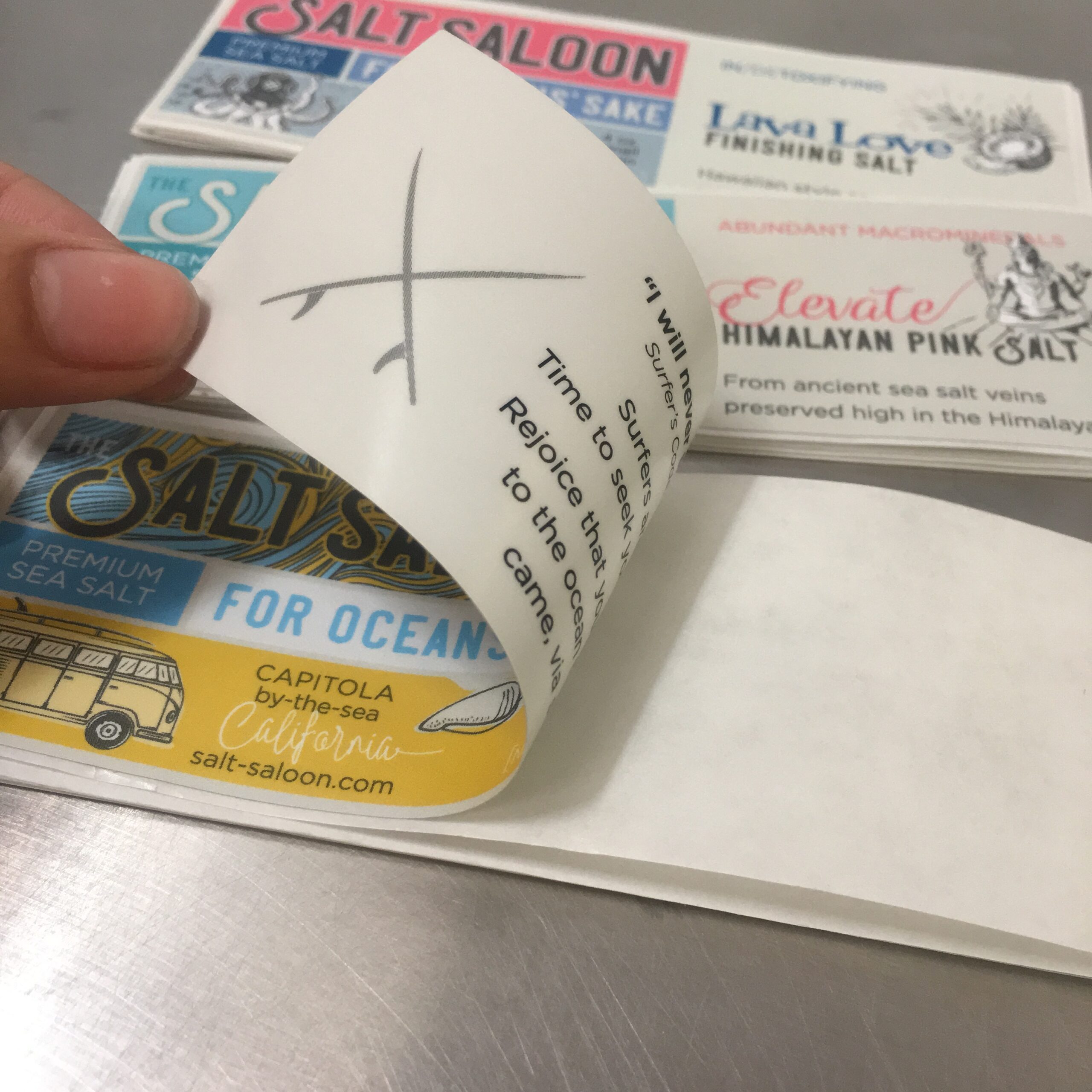 Double sided labels might seem like they'd be a real challenge for a printer, but here at Etiquette Systems, we have so much experience with them that they're basically "run-of-the-press" to us, so to speak. Printing both sides of double sided labels is actually the easy part; picking the right adhesives to hold on tight until someone deliberately peels the labels is a bit harder. But we've got that nailed, too.
Truth is, double sided labels don't always need much, if any, adhesives; for example, double sided can labels may be glued to themselves at each end, making it easy to remove the label to get at the printed matter on the back side. And for some double sided decals, static cling is sufficient to keep them attached to glass. In fact, this is where the category of double sided labels really shines, because decals of this type allow the message to be visible to consumers both inside the store and out, adding an extra dimension to your marketing. As long as there are brick-and-mortar businesses, there will be a need for the double sided window decal. Not only can they advertise the business and its products, window decals can also be used to make customers aware that the business accepts certain credit cards or offers specific product brands.
Double sided decals are also great for home, business, and automotive glass products; they provide advertising and pricing for the glass, as well as identification for glass workers who have to store, inventory, and install the glass. Automobiles often sport double sided window decals, from those goofy little stick families to school and apartment complex parking permits. These forms of automotive window decals can be added or removed as necessary.
Double sided window decals come in several varieties. Most are printed on a thin sheet of vinyl or similar material, with the image on both sides, or on a transparent material where the image is visible from either direction. For those that don't use the static cling method, one side is coated with a transparent adhesive, then covered with a split backing that can be easily removed. All you need to do is peel off the backing and stick the decal to the glass.
Other double sided labels are used on bottles and cans where the manufacturer wants the end user to peel off the label. (Everybody wants to anyway, right?) Sometimes, they hide handy coupons on the back side; food containers, from oil bottles to bean cans, may also include recipes and special usage instructions on the back of their double sided labels, adding a little spice to the product. Medication bottles also sometimes include double sided labels to provide extra usage instructions, so they don't have to take up space inside the bottle. Piggyback labels, which allow you to peel or tear a coupon, game piece, or giveaway off a sales container, are also a form of double sided label backed by a more solid adhesive layer.
There are many, many ways you can put custom double sided labels to use, from window decals to collectible coupons. You can even buy blank double sided labels to print your own. So: How can we help you expand your labeling options today?