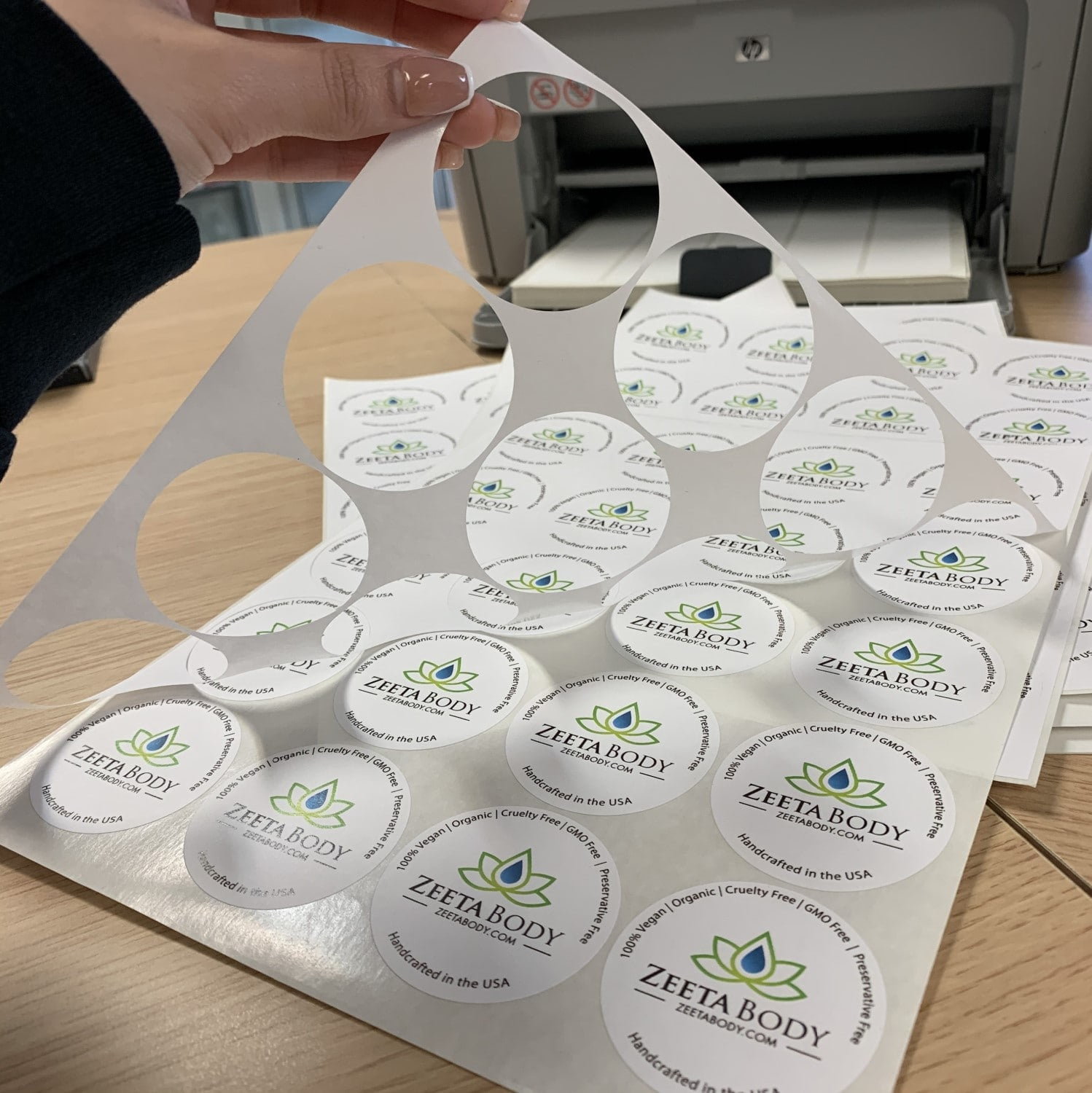 "Sheet Labels" are precisely what they sound like: pre-cut blank labels laid out on sheets, generally of the 8.5″ x 11″ letterhead type meant to run through desktop laser or inkjet printers and most commercial copiers. These labels are ideal for packaging labels and all kinds of DIY projects, which is why we offer blank sheet labels in a variety of sizes and shapes. Our blank labels are simply the ultimate in print your own sheet stickers and labels, and given their popularity, you'll have no problem finding a software format to use to print your self-designed sheet labels—assuming you actually want to print your own labels. If not, we can help with custom printed sheet labels, no problem.
Sheet labels work very well with both inkjet and laser printers, and frankly, it's hard to tell the difference these days in terms of quality. You can use these Do-It-Yourself sheet labels for just about anything, from labeling handmade food products to car parts, inventory, warehoused goods, and the like, as long as you choose the right kind of laser or inkjet labels. Plain paper labels aren't tough enough for some uses; for more rugged environments, you're better off with coated paper and vinyl. You can even use our DIY labels as freezer labels; they're optimized for that use, in fact.
We can supply you with preprinted or blank sheet labels, depending on your needs and budget. Generally, both blank and custom printed sheet labels are an economic solution, because color printers for sheet label media are a smaller investment than color printers for roll media. You can either print the yourself, or bring them to local copy center. But realize that in the long run, our preprinted sheet labels save you a good 30% compared to roll labels and the hassle of DIY printing. And why go to the office supply store to pick up a pack of big-name blank labels when ours are better and less expensive?
Our printer sheet labels come precut, in various Avery-compatible pre-sized formats. Size examples include 4.0" x 2.0" labels, 2.625" x 1.0" labels, 4.0" x 3.33" labels, etc. Even better, they come in three different food-grade/freezer label material options:
1583ETI7 – smooth bright-white uncoated paper
0760ETI5 – 60# white cast-coated gloss paper
7803ETI7 – 4 Mil white flexible vinyl
Want to learn more about these sheet label materials? Click any of the individual items in our main store.
Our sheet labels are industrial-quality labels that come already coated with freezer/food-grade adhesive. This sets them apart from the everyday stationary supply you can get at places like Staples, OfficeMax, Office Depot, Costco, and Sam's. We've organized our sheet labels in four categories of 29 formats for your ease of selection:
Round Corner Rectangle (LR)
Square Corner Rectangle (LS)
Round Circle (LC)
Special Shape (SS)
Will you find that level of dedication in an office products store? We think not!
We'll be happy to send you as many blank sheet labels as you need; just let us know. For preprinted sheet labels, we encourage you to call us toll free so we can get you a quick custom printed sheet label quote.