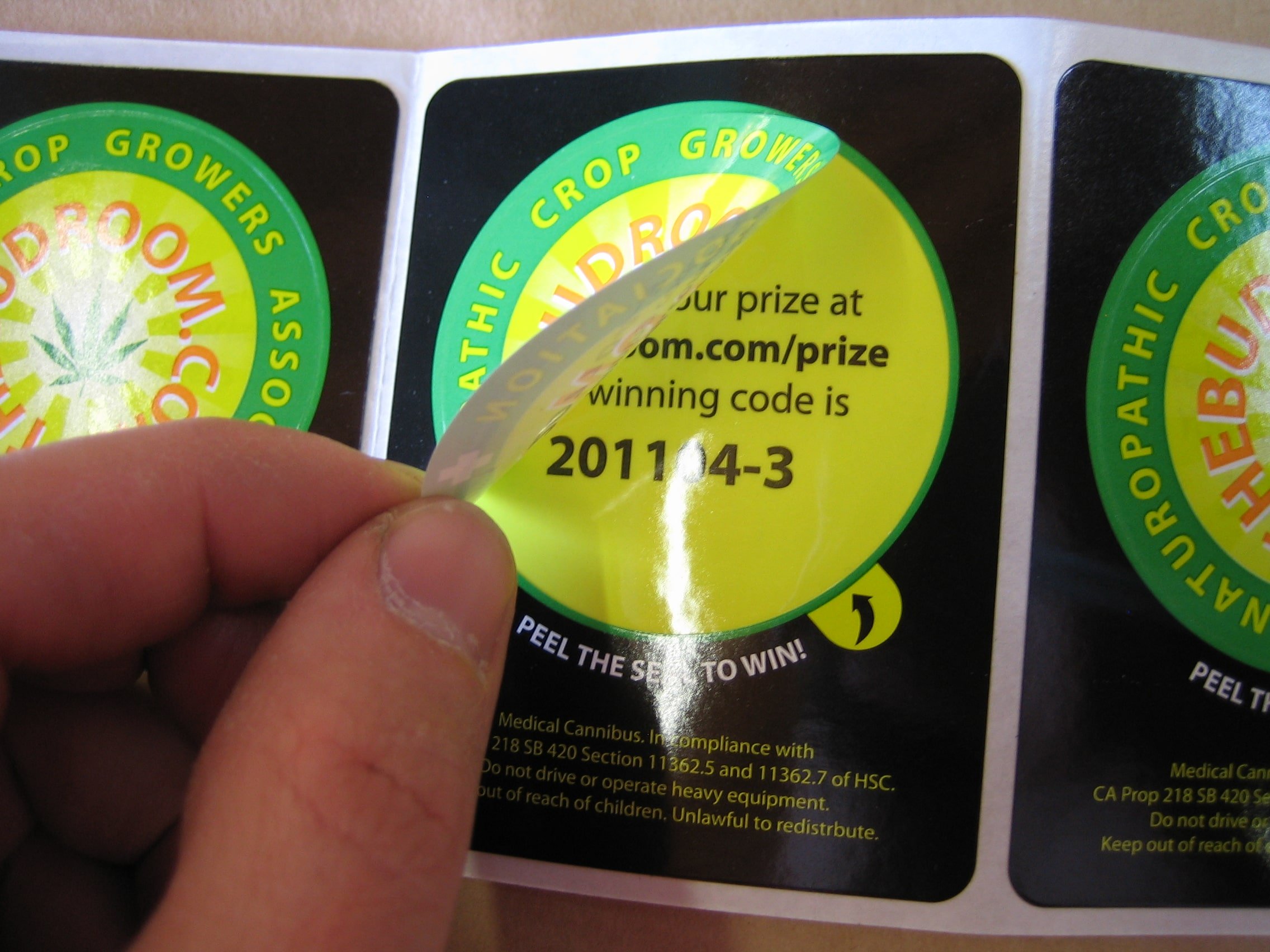 Piggyback labels are a curious breed, but they're exactly what they sound like: labels you can peel off existing labels and stick where you need them.
Adhesive labels usually consist of a face stock with printing (if any) on one side, an adhesive on the other, and a slick backing stuck to the adhesive side so that the labels won't stick to anything you don't want them to. Usually, you just peel off the backing, stick the label where it goes, and toss the backing. Piggyback labels, however, are unique in that the other side of the backing has its own adhesive, followed by another layer of backing, so you can stick the whole label or set of labels on something—and then, later, you can peel off the other label(s) riding piggyback on the original label.
Even if you didn't know what they were called, you've probably seen this type of labels before. Have you ever received a package with a return label you could peel off and then use on an envelope or other package? That's a custom printed piggyback label. In this case, the label is basically an adhesive label stuck on top of another adhesive label, which was stuck to whatever they sent you. Some states that require auto inspection stickers provide those inspection stickers as piggyback. For years, the IRS used labels on their tax form books so you could just peel your pre-printed address label off and stick it to the top of your tax form, and not even worry about filling in the address info.
Other piggyback stickers are made with two layers of printing, without adhesives, so you can peel off one to reveal a reward or other information. Game pieces—such as for a version of Monopoly or Scrabble—from fast-food restaurants often come in this form of label. Often they have another layer of backing you can peel off to stick to a "gameboard" page.
Custom piggyback labels
Custom piggyback labels are a versatile and efficient solution for your labeling needs. These labels consist of two or more layers that are stacked on top of each other, allowing for multiple pieces of information to be printed on a single label. The top layer can be peeled off and applied to another surface, while the bottom layer remains in place, creating a "piggyback" effect. Custom piggyback labelling are ideal for applications where space is limited, and multiple details or instructions need to be conveyed in a compact format. They can be used for product packaging, shipping labels, inventory management, and more.
Piggyback stickers are especially valuable for entrepreneurs who need to finance an effective direct mail marketing blast, because they make life that much easier for the people receiving the mailings. Direct marketers have used this type of custom printed labels a lot over the last few decades. They'll tell you that most prospects want that: they're more likely to respond favorably if you do everything but open the letter for them. We're sure someone will figure out a way to do that pretty soon, too!
Piggyback labels at Etiquette Systems
Etiquette Systems is your go-to solution for all your label printing needs. With our state-of-the-art printing technology and expertise in label production, we offer a wide range of options for printing labels tailored to your specific requirements. Whether you need freezer labels, freezer-proof labels, custom labels, or any other type of labels, we have you covered. Our team of experienced professionals will work with you to ensure that your labels are printed to the highest quality standards, with precise attention to detail and quick turnaround times. Trust Etiquette Systems to provide you with top-notch label printing services, so you can focus on what you do best while we take care of your labeling needs. Contact us today to discuss your label printing requirements and let us bring your vision to life.