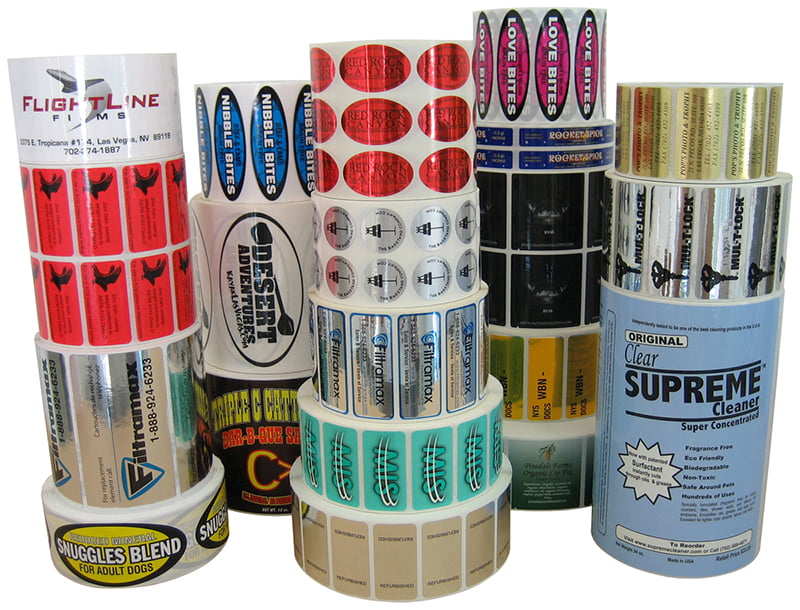 At first glance, you might be forgiven for thinking that roll labels were invented to label baked goods. But then again… well, no, you wouldn't. Roll labels are actually long, thin strips of labels that come wound tight in rolls, as opposed to sheet labels (which, surprisingly, have nothing to do with laundry). Typically, there are a minimum of 250 labels per roll, with 500 a more common number. This is one of most convenient label formats, ideal for storing and shipping most adhesive labels, and it's the format most labeling machines are designed to handle.
You can get your Do-It-Yourself labels on sheets, but if you're going for pre-printed labels, you'll want roll labels. Custom printed roll labels mean quality, especially when you get them from Etiquette Systems. And fear not: no matter what kind of roll labels you need or the kind of label stock you want them printed on, we can handle the job. We can even do bakery roll labels if that's what you need! Fact is, we're equipped to create everything from adhesive address labels to inventory stickers, piggyback labels to candle warning wrappers, beverage labels to window decals—all custom-printed and delivered in roll label format, just the way you need them. Flexographic, screen lithographic, and digital printing are all options for our custom roll labels, and full CMYK color isn't a problem.
We can also offer over-laminating and varnishing to protect the surfaces of your custom-printed roll labels. As for label stocks, we can print your roll labels on anything flexible enough to roll: paper (treated and untreated), most plastics (specially the conformable types like polyolefin and BOPP), and metallic stocks are all available. We'll even help you design your roll labels, if that's what you need. So request a quote and see what we can do for you. We think you'll be pleasantly surprised!
At Etiquette Systems, we can fulfill almost any industrial, business, or personal labeling need. So: what kind of roll labels can we make for you today?