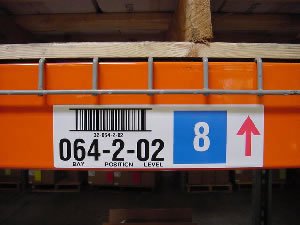 Logistics is the process of organizing any operation—and to do that on a large scale, you'll need a vast array of supply chain and logistics label solutions to help keep track of operations and all your goods and products. Logistics labels of all types, from custom bar-code labels to box labels and consecutively numbered labels, are an absolute must for any warehouse, distribution, or wholesale facility. They can be utilized for inventory accuracy/visibility, the product packaging and shipping process, or for point-of-sale labeling—or all of the above.
Luckily, you've come to the right place for your logistics labels needs. Etiquette Systems offers a huge selection of logistics labels ideal for introducing new efficiencies into your business. We understand the need for crucial parameters coupled with flawless performance in logistics control and operation. We can provide a full range of logistics label products, including warehouse and delivery pallet labels, that meet the demands of your entire facility.
To ensure inventory accuracy and label visibility, for example, we can supply logistics labels that feature preprinted color identifiers (that is, color borders, backgrounds, spot color printing, etc.) for at-a-glance identification. If we're supplying custom bar-code labels, we guarantee error-free scanning and reliability. Our logistics labels can auto-apply off of rolls, or come formatted on letterhead sheets, 8.5″ x 11″.
Our custom logistics labels can be made from a variety of material substrates, depending on your needs. Our logistics labels can even come made from retro-reflective substrates, to ensure that codes are readable from afar. They can come preprinted, ready to apply, or we can make them compatible for do-it-yourself printing. Most DIY logistics labels are made ready for either in-house direct thermal, thermal transfer, or laser printing.
We'll be happy to work closely with you to determine the specifications of the best-suited DIY and/or custom logistics labels for your particular application. Please call, email us, or submit your info on our contact form so we can contact you.