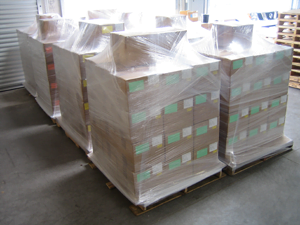 Pallet labels are an essential component to keeping order and efficiency in a bustling warehouse, distribution, or logistics facility. Typically, pallet labels are designed to affix to stretch wrap, corrugated cardboard, or even to the wooden pallet itself. A variety of logistics labels, pallet labels are used to assign shipping/routing instructions, ownership, or contents of pallet via lot numbers, descriptions, or bar-codes. Pallet labels can also be used to communicate special handling instructions, especially custom bar-coded pallet labels that are connected to a computerized database, where a significant amount of data about the product(s) can be stored. Etiquette Systems specializes in made-to-order custom pallet labels that are tailored for your specific application.
That means that our pallet labels aren't your run-of-the-mill "Do Not Stack" off-the-shelf labels. We can preprint product pallet labels with your own graphics or specialized warehouse pallet labels with numeric codes or bar-codes. We can also make them compatible for DIY in-house printing, using laser, inkjet, and transfer printers (direct and thermal), and we can even convert wood pallet labels from durable outdoor substrates. Pallet labels are commonly bar-coded in warehouse settings using thermal transfer or laser printers. Etiquette Systems produces printable pallet labels using materials that are designed specifically to be printed through these means.
Whatever variety of pallet labels you need, we can produce them in roll and sheet formats, in various sizes and shapes, using flexographic printing, special cutting dies, UV curing, and more. We're ready for your challenge, and look forward to hearing from you on your pallet label requirements, either for blank or custom printed pallet label formats!