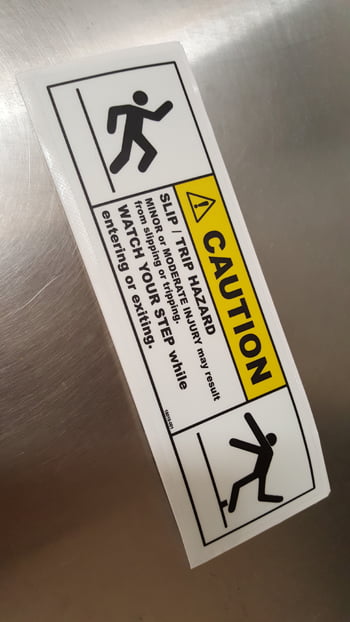 All labels are NOT created equal. While it's true that many, if not most, roll and sheet labels are used in what amount to dry shirt-sleeve environments, sometimes labels with a little something extra are required—and we don't just mean style and flair, though we can do that too. Durable labels are meant to be applied in and last through all kinds of harsh environments: severe heat, severe cold, excessive moisture, chemical contact, corrosion, abrasion, deliberate defacing, and any mixture of the above; basically, long-term exposure to elements natural and unnatural. Your plain non-gloss paper labels, as useful as they are, just aren't enough to handle all those.
Durable labels tend to be made of coated paper or plastics like biaxial oriented polypropylene (BOPP), vinyl, and polyolefin. Many also have specially formulated adhesives, as required by the environment. For example, cryogenic labels need resin-based adhesives that remain sticky down to -300° or even lower, while everyday frozen-food labels rarely have to adhere at temperatures below -65.
Squeeze bottles for food and other products need deformable, durable labels, usually of plastic. Oil drums require special adhesives that aren't loosened by oil spillage, and tough stock materials that can be cleaned up without eroding or smearing. Other labels require inert stocks that won't react to acids or caustic solutions, as well as tough, inert adhesives. Meanwhile, labels used in warehouses, outdoors, on machine parts, on tires, or on wooden pallets need to be super-tough so they don't get abraded away during normal operation, or melted by heat—either natural heat or that found in high-performance and industrial machines. In that case, we recommend metallic labels, sometimes with additional overlays for ever more protection.
We can make these types of durable labels and more in the colors, materials, and adhesives you need. Whether they're for shampoo bottles, acid carboys, oil decanters, petroleum barrels, gasoline pumps, danger awareness, parts inventory, or frozen foods, Etiquette Systems can handle it. Contact us with your specs, details, and art, and we'll shoot you a quote you'll find quite competitive.